Fort San Pedro - Is one of the oldest spanish Fort in the Philippines . Work was started May 8, 1565 with Legaspi himself breaking the ground.
Magellan's Cross - The spaniards with a ceremony of baptismal rites for over 800 natives, it was in in the same ceremony that the spaniards then planted a wooden cross and conducted the first christian mass in the Philippines and later on they called it magellan's cross.
Basilica del Santo Nino - The home of our beloved Santo Nino de Cebu. an effigy of the child jesus presented to the wife of Rajah Humabon during Magellan's expidetion.
Casa Gorordo Museum - The house was built in the 1850, four generations of the Gorordo family have lived in this house inclcuding Bishop Juan Gorordo, the first filipino Bishop.
Taoist temple - Built in 1972 and funded by the cebu's substantial chinese community. The temple is the center of worship for Taoism. Taoist temple is open to the worshipers and non-worshipers alike. A ritual among devotees is where one prays to the gods to grant one's wish. The ritual includes washing of hands, going inside the chapel barefoot and dropping two blocks of wood. If the blocks of wood are both face up then one could make a wish. If not then it is not yet the time for one's wish to be granted and one has to come to the temple some other time.
Mactan Shrine - Were the Battle of Lapu-Lapu & Magellan Take Place.
Guitar Factory - It is where our famous guitar's are made.
And Passing thru the oldest street " COLON " then Fuente Osmena, Capitol Bulding
Kawasan Falls - The famous Kawasan Falls is situated some four hours from Cebu City in the sleepy little baranggay of Matutinao in the town of Badian. Badian is famous for a system of waterfalls which has two major drops, a huge water source squirting thousands of liters of fresh (and very cool) water every day, and an adverture trail which takes you deep into the heart of Baranggay Matutinao.

Whale Shark Encounter in Oslob, Cebu

Religious Tour in Simala, Sibonga,

Diving in Moalboal
Type of Products and Services offered
Accepts:
CAR/VAN Rental with driver
Pick-up/Drop off
City/Provincial Tour
Car/Van Lease-Short & Long Term
Self Drive for Car/Van ( Daily, Weekly, Monthly )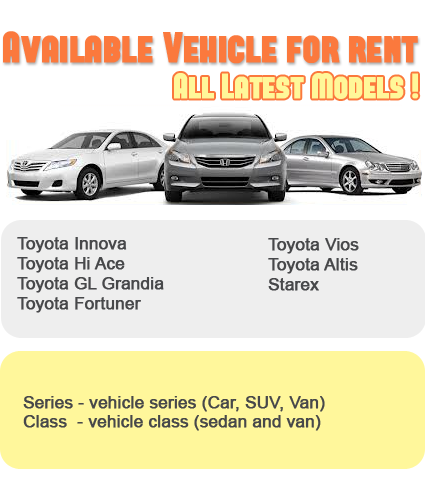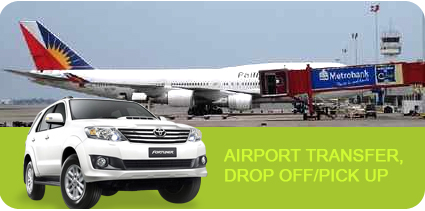 Copyright © 2012 by RC Rent A Car, Inc. | All Rights Reserved.